FAQ'S | UR STAY SERVICED APARTMENTS
Have a question or query?
We have listed the most common questions and answers below.
However
if you have a specific question please call us on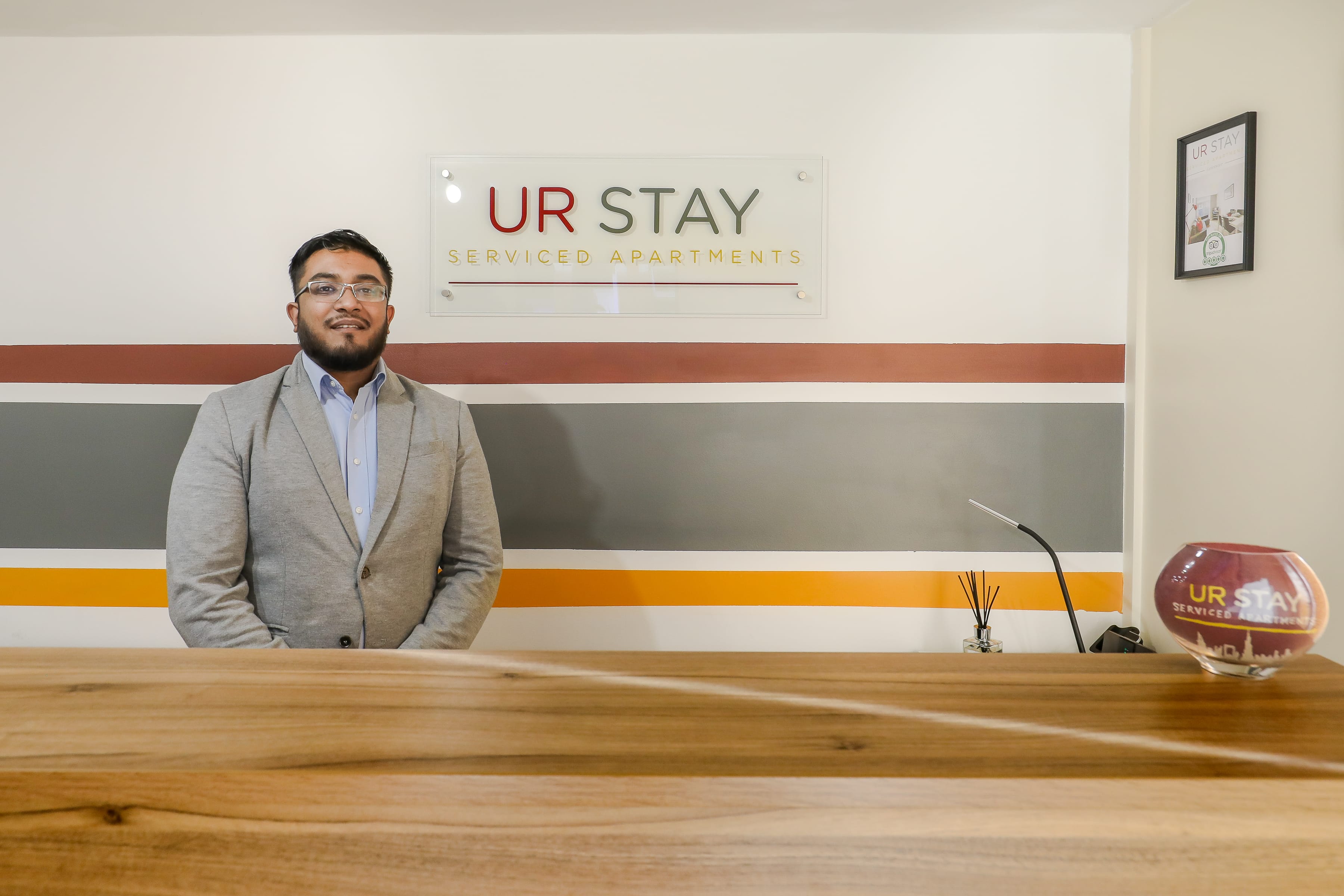 What time Is Check In and How Do I Collect Keys?
Check in time is between 3pm and 10:30pm. When making a booking either online or by phone please specify a check in time and one of our check in agents will meet you at the property at the specified time. Any checking's before 3pm or after 10:30pm must be authorised prior to arrival and may incur an additional charge.
Who Do I ring For Key Collection?
Leicester –
For Key Collection Please Call Our Check In Agent on 01162489244  or 07392374118 – 1 Hour Prior To Arrival.
Is There A reception?
Our reception area is located on the 4t floor apartment 12a in our Templar House building in Leicester.
When Is Payment Taken?
Payment Is Taken On The Day Of arrival, unless you have booked a non-refundable rate.  
Do I Need To Bring My Own Towel And Toiletries?
No, we provide enough towels depending on the number of guests and toiletries.
Do You Provide a Welcome Pack?
Yes, we provide tea,coffee,milk and biscuits on arrival
What Else Is Provided n The Apartment?
All Apartments come with the following:-
Washing up liquid
Multi purpose cleaning spray
Bin bags / J cloth
Hairdryer
Clothes rack
Iron and ironing board
Is There a Information Pack In The Apartment?
Yes, all apartments come with an information pack containing :-
Instruction manuals for all appliances
Media guide ( operating instructions for the TV and ROKU BOX )
Guide to Leicester
Useful contact numbers
Nearest supermarkets
What TV channels Do You Offer?
Standard TV offers the full range of FREEVIEW channels 
We have also equipped all apartments with a ROKU media streaming device which give access to the following:-
NETFLIX- ( free movies, cartoons and TV shows on demand / Hollywood / Bollywood and Manga )
YOUTUBE- (Internet based Programs / clips / channels )
CRUNCHY ROLL – ( Manga cartoons )
Various  internet comedy channels
Various  cookery channels
A range of internet based TV channels
Various International TV channels including Arabic/French/German and Spanish  
Is WiFi Provided?
All apartment have an independent wi fi router. Which is unlimited and offers both wired and wireless connections.
How Do I Check Out?
On departure at the agreed time an agent will meet you at the property to collect keys and hand back deposit.
An agent will contact you the night before check out to confirm departure time.
We also offer a self check out service, if you prefer this option, please notify us and instructions of where to post keys will be provided.
What If I Want A Late Check Out?
Late check out can be arranged up to 5pm and subject to availability.
Charged at £35
Can I Extend My Stay?
Subject to availability yes you can please let us know in advance so this can be arranged.
How Often Will The Apartment Be Cleaned?
Maid service is every 7-8 nights at which point all linen towels and toiletries will be replenished.
Do You Provide Dishwasher tabs and Washing Machine Tabs?
Yes, we provide 2 x dishwasher tablets and 2 x washing machine tablets. Which are also re stocked when the apartments are cleaned.
Do I have To Pay A Security Deposit?
Yes, we take a security deposit of £150 which is to guard against any damages to the apartment and or its contents. This can either be pre-authorised with a card or paid in cash.
For corporate guest this can be secured against a corporate guard or a official deposit waiver signed by head office.
NOTE: A SECUIRTY DEPSOIT FORM MUST BE SIGNED WHEN COLLECTING THE KEYS, WHICH OUTLINES ALL TERMS RELATING THE THE DEPOSIT AND LISTS ALL ITEMS IN APARTMENT AS WELL AS ANY PRE ARRIVAL DAMAGES.
How Do I Book / Make Payment?
You can book online at www.urstay.co.uk and click on the bookings page to pay by credit card / visa debit.
You can pay by BACS, for which we will email you an invoice. 
You can by over the phone
Full payment is taken on the day of booking to secure the property; a full refund will be given if cancelled within the cancellation policy. 
A receipt will be emailed to you along with your booking confirmation, as well as a hard copy receipt which will be handed to you on the day of arrival.
What ID Do I Need To Bring With Me When Checking In?
As payment is taken on the day of booking. You will need to bring the card you used to book the apartment, as card details will need to be verified at the point of check in for security reasons.
For cash payments. On arrival  you will need 1 form of photo ID. Either a passport or driving licence.
NOTE: KEYS WILL ONLY BE HANDED OVER TO THE CARD HOLDER. UNLESS STATED OTHERWISE ATTHE TIME OF BOOKING. ANY NAMED GUEST OTHER THAN THE CARD HOLDER MUST PRESENT PHOTO ID BEFORE THE KEYS WILL BE HANDED OVER TO THEM.
What If Someone Else Is Paying For My Stay and Will Not Be Present At The Time Of Checkin?
The card holder must sign 3rd party authorisation form. Authorizing the payment. This must be emailed back to head office at least 48 hours prior to the check in date. We will also require a scanned copy of the front and back of the card.
What if I need to self isolate in the apartment due to a positive covid result and or symptoms?
Guests with confirmed or suspected COVID-19 should return home quickly and directly if they reasonably can, but this may not always be possible. In this event the following will apply. 
Advice in England has now been amended to period of isolation of 5 days. Guest are advised to remain in their apartment except in a few specific circumstances, including urgent medical assistance or accessing critical services and Limit outside visitors to room to medical personnel only. Requests for service or assistance should be made remotely by telephone or text (not face to face) to 07392374118 . Cleaning/housekeeping to be suspended until the isolation period is over, linen and towels can be given and left outside the apartment door. Food/grocery deliveries can be sent to our back office – apartment 12a Templar House, so that a member of staff can then bring it to the apartment. If the fire alarm sounds, normal evacuation procedures should be followed. A staff member will arrange for the guest to be supported and isolated from other guests at the assembly point.
The guest should contact management prior to checking out/departure to provide update. Self check out details will be given.  
Who to contact if guest becomes unwell? Call 111 or their GP for medical advice. If medical emergency call 999
What If I Want An Early Check In?
Early check out can be arranged from 12 noon onwards  and  is subject to availability.
Charged at £35