UR STAY Apartments is proud to donate to such a worth wile charity  giving underprivileged children and children with disabilities the chance to run away to the circus and forget their troubles for a day.
Circus Starr is a not-for-profit organisation which exists to support local businesses and local children's charities through a 75 venue tour hosted three times a year. A Social Enterprise with children at its heart, Circus Starr operates a unique
Donated Ticket Programme
that allows thousands of children to attend free shows thanks to the generous support of local businesses who, in turn, enjoy the opportunity to 'give back' to their communities.
"Circus Starr is a charitable organisation that supports disabled, underprivileged and vulnerable children through its world class show. ​The circus is a magical place and a wonderful arena for inclusion and equality; we see time and again how a trip to the circus can change a child's life."  Neville Wilson (Director, Circus Starr)
If you work for, or with a family you'd like to nominate to receive tickets from the Donated Ticket Programme, please contact Rachel Oliver on 01260 288690 or email rachel@circus-starr.org.uk
visit www.circus-starr.org.uk  for more information on the charity work Circus Star provide.
For upcoming tour dates please see Tour Dates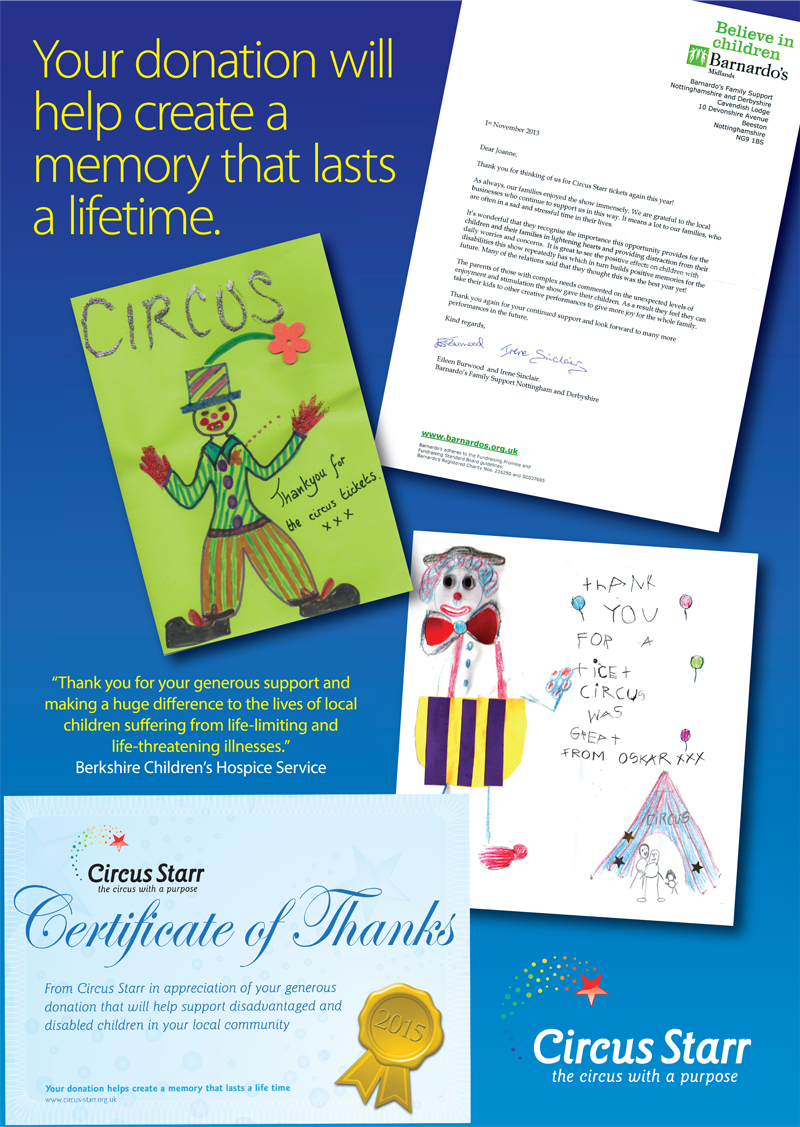 " We know these trips hold many benefits and have even been life-changing for some. Parents and carers of the children at our shows frequently report:
Reduced sense of fear, isolation and anxiety

Increased confidence, sociability and self-esteem

Greater connectedness to others, a feeling of inclusion
For more information about the positive and lasting impact a visit to Circus Starr can have on a child, please read our Case Studies. "