Look to the future
Chinese New Year 2021
Chinese Lunar New Year 12th Feb 2021
The year of the Ox.
Strong, reliable, driven,
Intelligent and valued
The Chinese zodiac or shengxiao consists of 12 animals with their own unique traits, tend to have lucky meanings, relate to ancient Chinese and have a repeating cycle of 12 years.
Lucky numbers are 1 & 4

100%

100%

colours blue, green and yellow

100%

100%

flower Lily of the Valley

100%

100%

element– metal

100%

100%
The Chinese zodiac or shengxiao consists of 12 animals with their own unique traits, tend to have lucky meanings, relate to ancient Chinese and have a repeating cycle of 12 years.
Oxen the second sign in the zodiac are highly regarded animals in many countries other than China. In ancient times in Iran and Egypt, it was commonplace for them to be looked upon as ancestors whereas the Chinese were of the belief that the Yan Emperor had a human body with the head of an ox and hence sacrifices were offered to the ancestor totem object– the ox.
Those born in 2021 – the year of the ox are said to be lucky, forge good relationships, be held in esteem by their friends, demonstrate integrity and are busy people. They are mostly compatible with the Rooster, snake, and rat.
Famous people previously born in the year of the Oxen include former US President Barack Obama, the preacher and human's rights campaigner Malcom X, actors such as Morgan Freeman, George Clooney, Eddie Murphy, Jack Nicholson, Meryl Streep; Nobel Prize winner Malala Yousafzai; super model Kate Moss; royalty – Princess Diana and Margret Thatcher the former Prime Minister of the UK, Napoleon Bonaparte and Vincent van Gogh.
2021 is the first Chinese New Year that has taken place during a National Lockdown and celebrations will be restricted due to the pandemic. Traditionally festivities last for 16 days, commencing on Chinese New Years Eve and climaxing in the spectacular Yuan Xiao, Feast of the Lanterns or Spring Lantern Festival taking place 26 February 2021, which began more than 2,000 years ago. This year it is most likely to be virtual festivities so check your local area to see how the celebrations will be enjoyed. Look out for lion dances, moon observers, lighting, the torch festivals, performers on stilts, drummers and traditional food such as rice balls, which are also referred to as silver or gold ingots.
This celebratory day is all about family reunions, socialising, fun – something we can all identify in an even stronger way right now, as we wait to do the same with our loved ones once it is safe. It is also customary to don new clothes symbolising the exit of the old year and the welcoming of the new one, so all those online purchases that have not had a chance to be aired, here's a perfect time to wear them.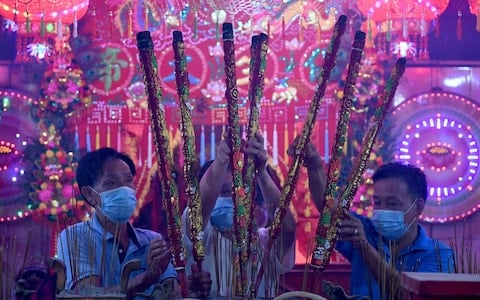 Celebrate With Food 
For those at home or staying away maybe it's a perfect time to call the local Chinese restaurant and order yourself a Chinese takeout in the comfort and safety of your abode. According to Just Eat the Britain's favourite Chinese dishes are Chow Mein, Egg Fried Rice, Crispy Aromatic Duck, Sweet and Sour and Spring Rolls.
Chinese people however favour Hot Pot, Sichuan Pork and Braised Pork Balls amongst other traditional dishes. Their penchant like ours, for Peking Duck dates back over 600 years to the Ming Dynasty when it was created in Beiijing by Yang Quanren. The ducks are bred especially and are only killed after 65 days, when they are seasoned and glazed and then cooked in ovens where they hang so that the fat from in between the layer of skin and meat can drain out, enabling the skin to crispen up.
If you fancy having a go at cooking these delights at home, make sure you have a Wok – the traditional more often circular pan dates back to the Chinese Han dynasty. Its sloping sides, concave shape as well as its fabric ensure more evenly distributed heat makes it so much more appropriate than a frying pan and is used for steaming, frying, braising, searing boiling and so much more; it's a must.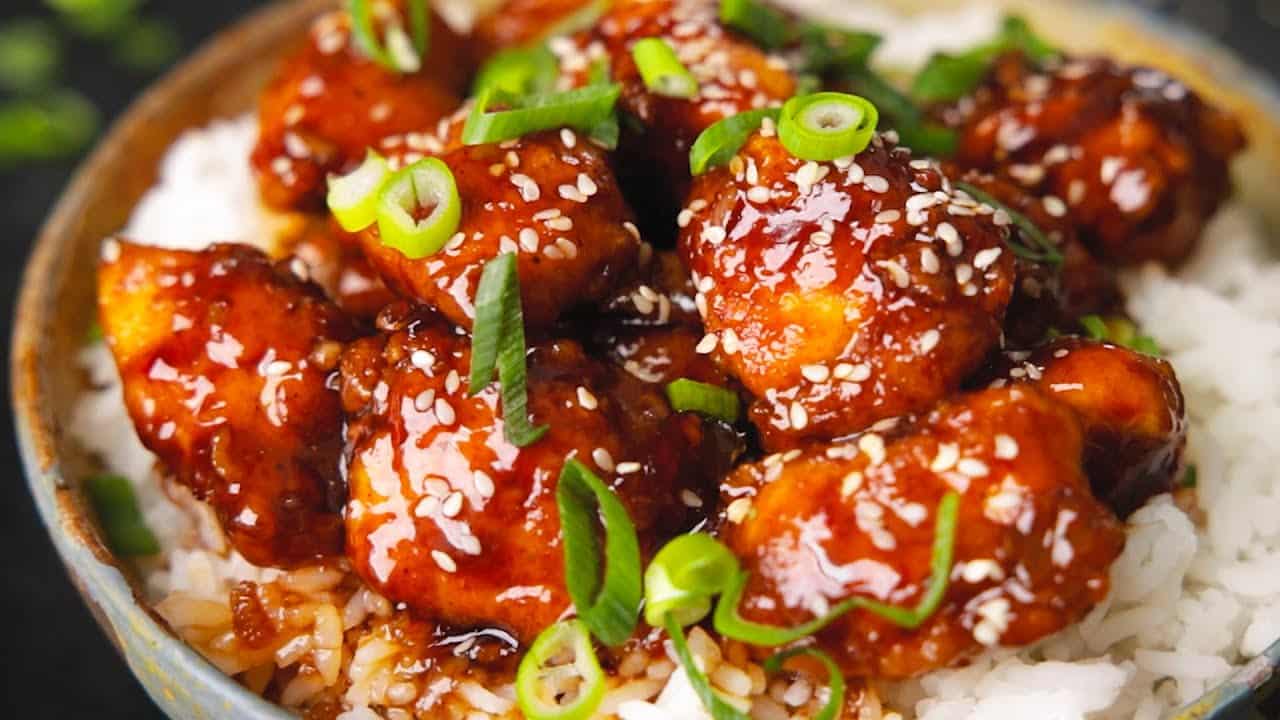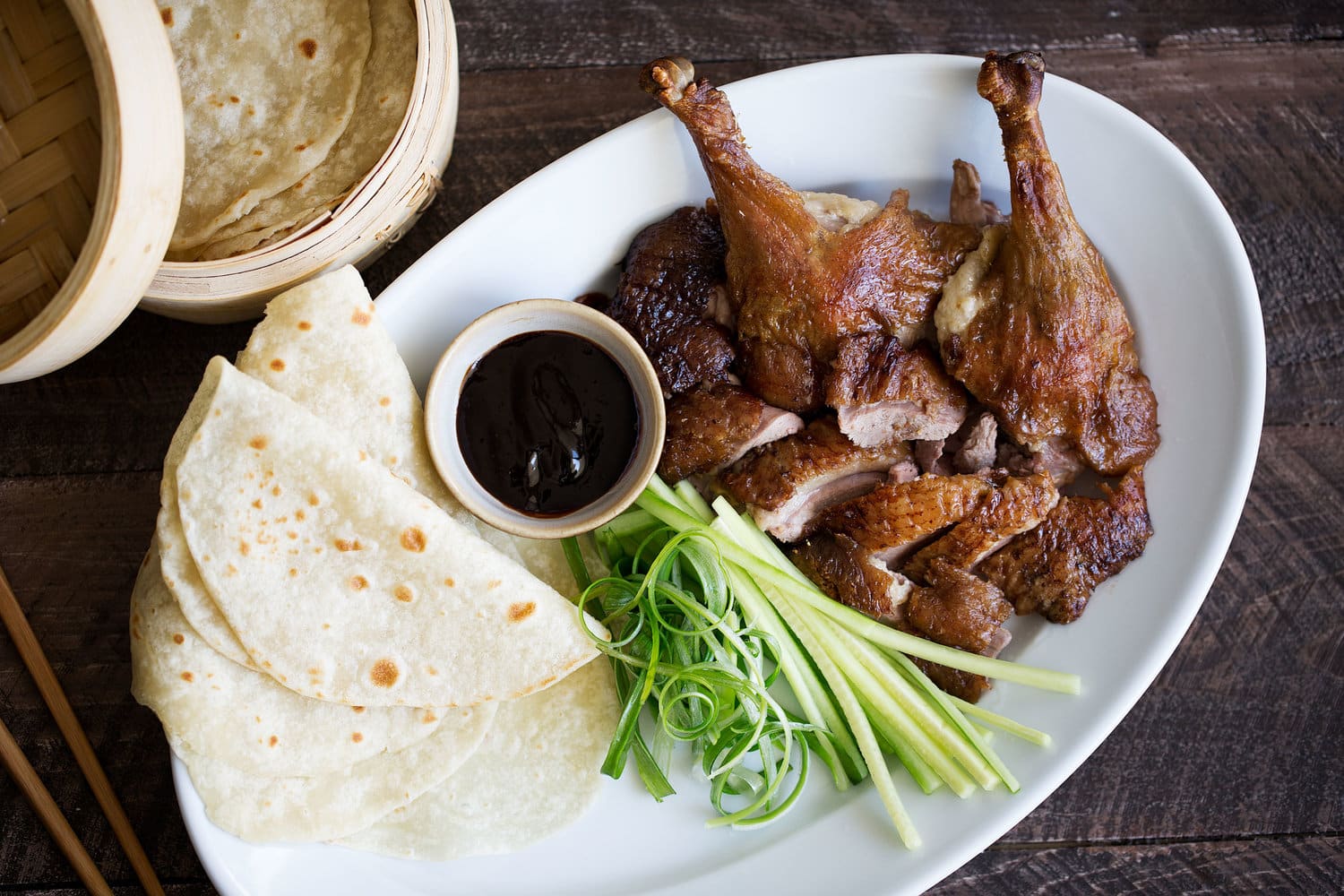 Crispy Duck
For cookery tips and recipes refer to  experts such as Ken Hom, Susannah Foo, Martin Yan and Ching e Huang.
So, go on join the celebration and tuck in.
Xīnnián kuàilè
Happy New Year