Two Easy Recipes
"Hi Guys,
hope everyone is keeping safe and well.
It has now been 44 days since lockdown started and we have all been feeling it. Especially the scarcity for good produce within the supermarkets."
Ur STAY teamed up with Shaiwana a professional cook based in Essex to provide you with two recipes that require basic ingredients, which hopefully you have lying around at home.
Dish 1 – Spicy Mackerel served on Flat bread.
      Dish 2 – Spicy Tomato spaghetti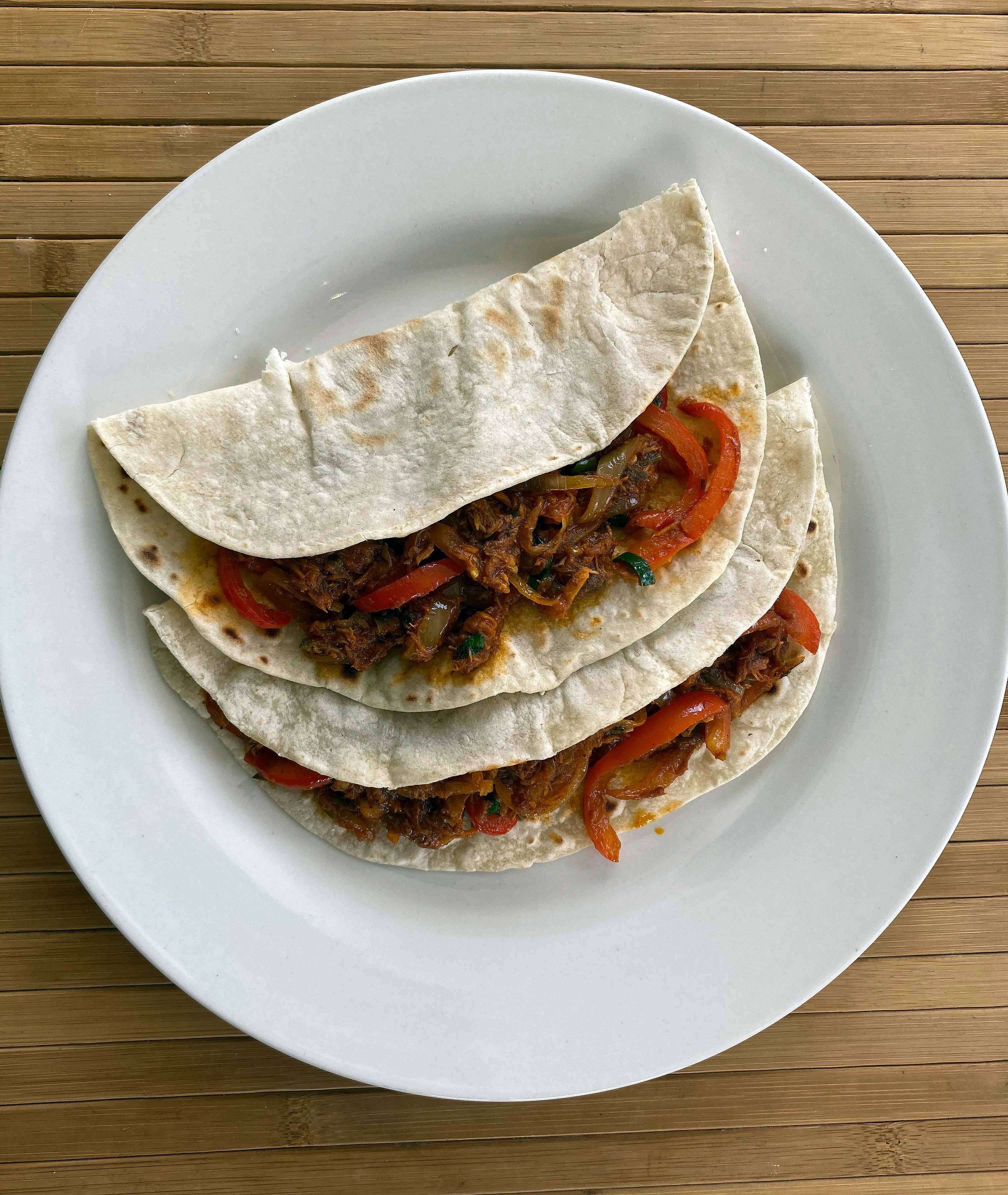 Spicy Mackerel served on Flat bread
Recipe
Ingredients
1 tin of tinned mackerel in tomato sauce
2 tbsp Oil
1/2 tsp Garlic (powder or paste)
1/2 tsp Ginger (powder or paste)
1 Medium Onion (finely sliced)
1/2 Red Pepper (finely sliced)
2 Green Chillies (chopped or to taste)
1/2 tsp Salt (or to taste)
1/2 tsp Turmeric Powder
1/2tsp Black Pepper
1/2 tsp Madras Curry Powder
3 tbsp Passata
Lemon Juice
Fresh Coriander 
Method
1. Heat the oil in a frying pan add the ginger, garlic, green chillies and cumin seeds, fry for 2 minutes. 
3. Add the red pepper, salt, pepper, madras curry powder and fry for 3 mins. Add the mackerel, break it down with the spoon, stir well.
4. Leave on very low heat for 3-5 minutes and serve.
You could use the mackerel curry and make wraps or make your own flat bread.
Flat Bread
Ingredients
1 cup plain flour 
1/4 tsp salt
Water to mix
Method
1. Mix the salt and flour in a bowl.
2. Add enough water to make a dough. Cover and leave for 15 minutes.
3. Heat a frying pan, devide dough into 4 equal balls.
4. Roll each ball and cook in the frying pan (does not take long) cook each side until golden bubbles appear. Keep warm in a tea towel.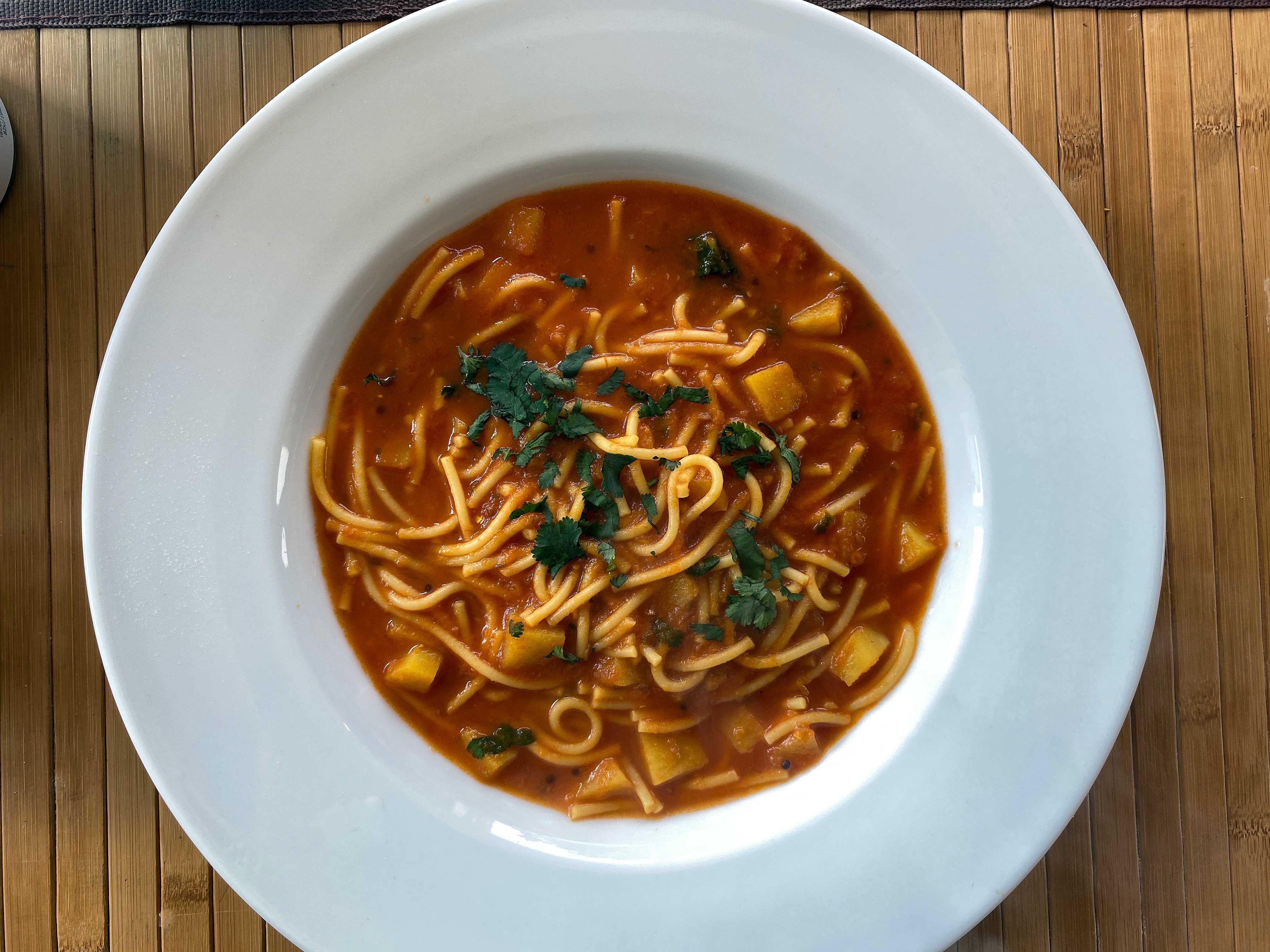 Recipe
Ingredients
100g Cooked Spaghetti 
I Large Potato (cut in to small cubes)
1 Tin Tomatoes or 400ml Passata
1 Medium Onion (finely chopped)
4 Cloves Garlic Grated 1tsp Garlic Powder
2cm Ginger OR 1/3 tsp Ginger Powder
5 tbsp Oil
1/2 tsp Cumin Seeds
1/2 tsp Mustard Seeds
3 Green Chillies (or to taste)
1 tsp Salt (or to taste) 
1/4 tsp Turmeric Powder
3 tbsp Tomato Ketchup
500ml Water
Method
1. Into a blender, add the tomatoes, onions ginger, garlic, and green chillies. Blend until smooth (you can use a hand blender).
1. In a large pan heat the oil, add the cumin seeds, mustard seeds and cubed potatoes, fry for a few minutes.
2. Add turmeric powder and salt, mix well.
3. Add 500ml water, bring to the boil and then simmer on low heat for 15 mins, or until the sauce thickens a little. Add the ketchup and the spaghetti, check the salt and serve.
I have 25 years of experience in authentic Asian cooking. Running my own restaurant in Birmingham and providing the local community in Southend with on request food orders specialising in South Asian cuisine.
In 2011 I won the South East regional competition on Britains Best Dish with my Famous " Chicken Biryani "
I am now here to provide my expertise with online cooking classes, guidance on healthy Asian cooking and to expand my food to order business.
Eat healthy and spice up your life!
Shaiwana x